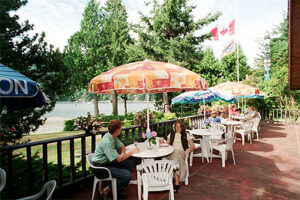 Editor's Note: This week's Throwback Thursday post is a special one in that the adventure we're sharing today happened exactly 20 years ago to the day. In today's post, we join a group of 2002 8 to 12-year-old Braille Literacy campers as they discover what the Oven Door bakery is all about. Here they are in their own words:
Sunday July 28, 2002
A Visit To The Bakery
Today, Aman, Rosie and Vanessa went to the bakery. The bakery is called Oven Door Bakery. A bakery is a place where they bake bread, cookies, muffins and even deep dish pizza. When we walked in it smelled like fresh baked goods. It smelled really good. Rosie asked to have some home made bread.
The baker's name is Sasha. She is a very nice person who offered us baked goods. Her favourite thing to bake is cinnamon buns and pizzas. She likes her job because she likes talking to all her customers. The most popular type of food is sausage rolls and cinnamon buns. Her favourite thing about her job is that she gets to see a lot of people and she says that baking is fun.
Sasha knew how to cook before she went to the bakery because she used to work at camp Bowen. Sasha wakes up at four in the morning and closes at five at night. She starts baking at 5 o'clock in the morning. She bakes her products at the bakery. Basically, she only makes baked goods. Bowen bread takes the longest to bake. It takes an hour. Bowen bread is a kind of bread that doesn't have yeast. At the bakery there are banana, raspberry and blueberry muffins. they made bran and oatmeal muffins everyday. To make muffins you need ingredients like butter, flour, sugar, milk, and frozen blueberries.
We got to play with pizza dough and we also got to use the bread-mixer. Rosie got to touch and smell croissants and bread that they were going to use for sandwiches. The bread mixer had a long rod, which turns with your arm. That is what mixes the dough. The pizza dough we played with was soft, cold and mushy. The amazing thing was the dough didn't stick to the skin!
Once the bakery got robbed because they left the window open and a few kids stole some food. The thieves came back, admitted they did it and apologized.
At the end we bought some baked goods: cookies — five different kinds. We had lots of fun at the bakery. At the end of our visit Sasha gave those who wanted it, a free cookie and we felt happy.
---
As part of ensuring the future of Camp Bowen, we have embarked on a capital project campaign with our sister Division, the Pacific Training Centre Division. This capital project will give us the stability of having a forever home for Camp Bowen and the intensive blindness/DeafBlindness skills training program our sister Division offers, two very unique programs so desperately needed by blind, DeafBlind, and low vision Canadians.
To learn more about the capital project, please visit BowenIslandCentre.ca.
You can also read more Throwback Thursday posts.Throwback Thursday: July 28, 2002 – A Visit to the Bakery