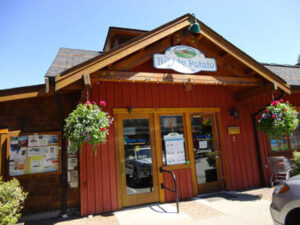 Editor's Note Last week we time-travelled to 2004 and joined a group of Camp Bowen Braille Literacy campers as they visited the Ruddy Potato grocery store here on Bowen. In this week's Throwback Thursday post, we return to the Ruddy Potato, this time joining a group of 2002 8 to 12-year-old Braille Literacy campers as they discover what the Ruddy Potato is all about. Here they are in their own words:
A Day at the Ruddy Potato
The TBI also known as the Tekki Blind Investigators went to the Ruddy Potato Whole Foods Market and interviewed Michael, the store manager. Michael has been working at the store for one year. The Ruddy Potato is an organic food store that sells whole foods. That means there are no chemicals, pesticides, GMO (genetically modified organisms), or artificial fertilizers. There are 12 employees at the store, but Michael works with a total of about 20 people. Three to five people work at the Ruddy Potato at one time. Today, when we went there, there were only three people working there. They were two cashiers and the store manager Michael. Michael told us that there was also a Ruddy Kitchen below the Ruddy Potato and they had a Ruddy Potato truck. The symbol for the Ruddy Potato is a picture of a farm.
Michael showed us around his store, and he gave us things to eat, including cherries, strawberries, avocados, kiwis, chocolate covered ginger, cashews and peanuts. The sections in his store include produce, meat, the warehouse, frozen foods, nuts, bread, spices and a kids' section. The meat comes from Alderwood Farm. The chicken is from Fenwood farm. We met Doug Jamison from alderwood farms the day before.
In produce, there are fruits and vegetables such as lettuce and kiwis. In the meat section, there were sausages, beef, and chicken breasts. In the warehouse at the back, there were all types of things. We even got to go in the walk-in fridge. In the frozen foods section, there were soy ice cream, pizzas, burritos, and waffles. In the bread section, there were breads like baguettes, whole wheat and other healthy breads like sourdough. In nuts there were cashews and peanuts. In spices there were spices like basil, dillweed, cayenne, and things like that. In the kids' section, there were toys and even a wooden tree with children's art on it.
We enjoyed the samples, the coffee beans, and the walk-in fridge. Some of us also got to try being cashiers. We scanned products like a loaf of bread and a fruit bar. After we scanned the products, we opened the cash drawer and checked out the money in it. That was fun!
---
As part of ensuring the future of Camp Bowen, we have embarked on a capital project campaign with our sister team, the Pacific Training Centre for the Blind. This capital project will give us the stability of having a forever home for Camp Bowen and the intensive blindness/DeafBlindness skills training program our sister team offers, two very unique programs so desperately needed by blind, DeafBlind, and low vision Canadians.
To learn more about the capital project, please visit BowenIslandCentre.ca.