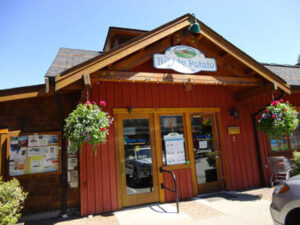 Editor's Note: This is the first post in a series celebrating the history of Camp Bowen. Inspired by the Bowen Island Museum and Archives' great article in the Bowen Island Undercurrent, we thought we'd dig into our own Braille archives and kick off this series today, as part of BC's Heritage week. In this article several campers at Camp Bowen's 2004 Braille Literacy Camp visited The Ruddy Potato grocery store. For readers unfamiliar with The Ruddy Potato, it is a grocery store here on Bowen Island where many islanders, myself included, pick up groceries. The campers in today's story were between the ages of 8 and 12 and, as part of Braille Literacy Camp, were exploring local businesses, learning about the jobs Bowen Islanders do. The campers had to come up with a list of questions, which I've included below, and then travel to The Ruddy Potato and interview staff. After visiting a business, campers work with camp staff to write reports in Braille or large print and then present these reports to their peers. Braille Literacy Camp's community exploration gives blind, DeafBlind, and low vision kids the opportunity to explore and learn about the things that go on in the community that they may miss out on that their peers learn by visual observation. Sadly, I was unable to find any pictures taken on this excursion in our archives, so the image above is borrowed from The Ruddy Potato's website. Here is the campers' experiences in their own words:
Today we went  to visit the Ruddy Potato Store. Sandra was our guide. She showed us all around. She buys the food  that the store sells and likes guessing what people will want to buy.  She also likes showing people around the store. 
First we went downstairs to Sandra's office and saw a Portuguese water hound named Cricket who belongs to a lady named Linda, who works in the store. The dog was so soft and cute. We smelled the bakery beside the office and later we got to taste some delicious muffins and scones. most of us liked the muffins best. Then we went upstairs and in to  the big fridge. It had a sliding door and when you opened it you walked through plastic streamers hanging down to keep the cold in. We touched lots of different fruit and vegetables and tasted some of them too (Oranges, apples, and  apricots).  We had some juice too. We then checked out the dried fruit and vegetables and ate some. The Ruddy Potato used to be called Dunfield and Daughter, but they thought that name was boring and so they  changed  it  to something more interesting.  There is a type of Potato that is called Ruddy Potato.
Questions for the Ruddy Potato
What is your name and how do you spell it?
What do you do at the store?
What do you like about your job here and why?
How long did you train for? 
What is your favourite part about your job?
Where did you get your store name? 
How long has this store been open?
Where do you get your groceries from?
what's your job?
---
As part of ensuring the future of Camp Bowen, we have embarked on a capital project campaign with our sister team, the Pacific Training Centre for the Blind. This capital project will give us the stability of having a forever home for Camp Bowen and the intensive blindness/DeafBlindness skills training program our sister team offers, two very unique programs so desperately needed by blind, DeafBlind, and low vision Canadians.
To learn more about the capital project, please visit BowenIslandCentre.ca.