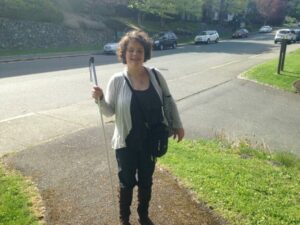 Editor's Note: Today's Student Voices is about Erin Lacharity, a graduate of the Pacific Training Centre for the Blind's Blind People in Charge program and a long-time Camp Bowen camper. Erin is now one of the program's Braille instructors and serves as the Camp Bowen Division's Secretary. Today's post features Erin back when she was a student and Danielle Fernandez, who was the program's cane travel instructor at the time. The below was transcribed from a panel discussion titled "Blind People in Charge: Report from the Pacific Training Centre for the Blind (PTCB)" that was delivered by Elizabeth Lalonde, PTCB's Executive Director, with PTCB staff and program participants. It was presented at CFB's May 2014 "Breaking the Mold" convention, held right here on Bowen Island, BC. Here's Erin in her own words:
Erin:
I do currently live on my own, and let me tell you, the Centre has increased my confidence tremendously. When I started, I thought I knew about independence. I thought I had it all, and the Centre made me realize that independence is a lifelong journey. It's not an instantaneous "you take a couple of courses in school, you graduate with a degree of independence". It doesn't work that way. You're constantly learning, you're constantly developing, you're constantly growing.
My cane skills have grown tremendously. I love the open palm technique. It's much more relaxed and plus, I won't get carpal tunnel syndrome. It's such a freedom to be able to walk across that tiny little crosswalk in front of my apartment building, go to Save On Foods, go to the customer service desk and ask for assistance with getting my own groceries, and, having the freedom to walk back is golden for me. Also, being able to go to and from the Centre by bus is awesome.
I'd like to thank Danielle Fernandez, as she has really inspired me and many others at the Centre. She's shown us that you can travel safely and independently.
When I told my mom I was crossing three downtown streets the other day, she said, "Be careful," and, "Why aren't you doing it with her?"
I said, "Because I don't have to. I can do this by myself. Yes, I'll be careful and there's lots of people downtown."
I crossed the street with a bunch of people, but I didn't go sighted guide. I felt a little panicky because I crossed the street fast, but yes, it was downtown and I made it to the number 11 bus stop to go to dragon boat practise.
Cooking skills, I still feel that I need to practise. The Centre is absolutely golden and I'm so proud that we have one in Victoria, B.C., Canada. Yah!
Danielle:
… I've worked with Heidi, and Erin, and Sky, and Miriam, and even Aedan – I've worked with all of them at different times since I've been here and to see the change, it's really great.
I think the one I've seen the most in right now, just because I've worked with her a lot, is Erin. I'm going to get a little teary – because, Erin, reminds me of me. That's why it touches me so much, because seeing her want to really get out – she's 34 – she's older than I am – and, to see the changes and how she really wanted to just get out there and accomplish stuff. Erin is just like, "I'm gonna do it. I don't care what you say, I'm gonna do it."
We worked really hard. We worked three hours downtown to really make sure she can get on that bus and she wouldn't get lost, so she could go to her dragon boat racing and feel accomplished. I want that for her. … She has persevered to a whole other level, like she said, she's now taking the bus to and from the Centre. Before, she was just taking HandyDart. She didn't even take the bus at all. And so, to do that, in what, a month?!
---
Cane travel, Braille, cooking, and home management; these are just some of the independence skills students will learn at the Bowen Island Centre for the Blind and DeafBlind. The centre will give students a foundation in these areas, setting them up for life-long success as independent blind and DeafBlind people. The skills they learn while at the centre will also help them to build on this foundation, because, after all, as Erin says, "You're constantly learning, you're constantly developing, you're constantly growing."
You too can be a part of making the dream of a Canada where blind and DeafBlind people can live independently with dignity and success a reality by supporting the Bowen Island Centre for the Blind and DeafBlind capital project. Financial support is not the only kind of support a project like this needs. Sharing posts like this one on social media and helping to spread the word about the work we are doing to connect blind and DeafBlind people with the skills they need to be independent is also important.
If you would like to learn more about this project or would like to help in some other way, you are always welcome to reach out and get in touch.
Check out some more of our Student Voices and learn how blindness/DeafBlindness skills training has impacted their lives.