I have always been an animal lover and had various pets and farm animals during my childhood. Dogs have always been a big part of my life. I never anticipated that one day a dog would impact my life so profoundly as the bond I would have with a guide dog. My life was forever changed the day I met my first guide dog in the summer of 2008 in San Rafael, California at Guide Dogs for the Blind. The partnership I have with my guide dog is one of mutual love, trust, and respect. I feel incredibly blessed to have a companion that accompanies me everywhere I go. Working as part of a guide dog team, I have gained confidence and independence. As a guide dog handler I am able to navigate my community freely and safely and cover a lot of ground with ease in a short period of time. A lot of work goes into breeding, training guide dogs, and matching them with their handler. Guide dog organizations do their very best to connect partnerships based on the dog and the handler's personality, walking pace, lifestyle, and voice intonation etc… Although guide dogs are highly trained, underneath the harness they are still dogs. At times a guide dog makes a mistake, and it is up to the handler to maintain guide work and training. The Labrador breed is versatile and a top contender for guide work. With traditional training methods approximately 40 to 50 percent of dogs trained for guide work were successful in the field. Since Guide Dogs for the Blind has incorporated clicker training and positive reinforcement to their training program, approximately 60 to 85 percent of dogs in training graduate from the program and are matched with a partner who is blind (Richmond, 2015).
Over the years I have had the honour of working with five beautiful Labrador retriever guide dogs from Guide Dogs for the Blind. Typically guide dogs retire between nine and eleven years of age (The Seeing Eye, n.d.). Unfortunately, a few of my guide dogs have had to retire prematurely for various reasons. Although the dogs I have had are of the same breed, each dog has been unique, with their own personalities, quirks, and strengths. I have many fond memories of our time together as a guide dog team, and in our down time at home where the dogs are able to let loose and just be a dog. I would like to share some of the memorable moments I have had with the dogs that have changed my life. The moments I have had with each one of these dogs have been profound. I have grown as a person with vision loss working with these dogs. Each partnership has taught me valuable life lessons and enhanced my life in ways that I thought were impossible. I believe that I am a different person because of my partnerships with Rafferty, Orion, Prego, Abner, and Barney.
Prior to meeting my first guide dog, Rafferty, a male black Labrador retriever, I was not fond of the Labrador breed. Although I thought Labs were sweet and adorable, every Labrador I met had either jumped on me, licked my face, or sniffed my crotch. I did not appreciate any of these unwanted behaviours from a dog. When I met Rafferty, he was unlike any Labrador I had ever met, or any dog for that matter. Rafferty was intelligent, calm, and extremely dignified. Having Rafferty enhanced my life in many ways. The bond I shared with him was like none other I had experienced with human or animal. I had to put my trust in him when guiding me. Together we navigated busy streets, crossed intersections, took transit, navigated crowds, and problem solved our way safely around construction sites. Rafferty was always up for a walk, rain, shine, sleet, or snow! With him I overcame fears I had of falling and walking at night as I have always had challenges with night vision. I gained more confidence and independence in my daily life. The relationship I had with Rafferty only lasted seven months, due to him having a stomach issue that was not conducive to guide work. Although our time together was cut short, I will cherish the memories I had with him and be forever grateful for his devotion, courage, and wise soul. Rafferty was like an old soul in a young body, wise beyond his years. I cherish the moments I had with him and the joy he brought to my life, and he is the reason why I choose to have the guide dog lifestyle. For me, I could not picture my life without a guide dog at my side. There are too many memories for me to share, but I will do my best to capture snippets that have resonated with me and are always in my mind and heart.
When I acquired my first guide dog, I was adamant I would never allow my dog to sleep on my bed. However, I took Rafferty swimming in the ocean one day, not knowing that salt water can be a laxative to dogs. Rafferty had so much fun in the water swimming and fetching a piece of drift wood, but he ended up swallowing enough salt water, and he was sick for a few days. I blamed myself for Rafferty getting sick, and I felt sorry for him and allowed him to sleep on my bed with me for a few days.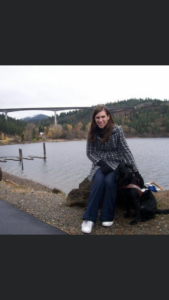 Together we took a road trip across the northern United States with a friend. We travelled by bus, train, automobile, ferry, and plane in the short time we had together as a guide dog team.
I never got used to the fact that if Rafferty was a human he would have been a morning person. As soon as my alarm clock would buzz at 5 AM on a work day, Rafferty was up and ready to go! For me, on the other hand, I would press the snooze button a couple of times. Rafferty would stand at my bed side and let out a huge sigh, as if he was saying to me: "Hello! It's time to get up, lady!" Of course I would press snooze, and roll over to get a few more minutes of shut eye. Rafferty would then lick my face in a valiant effort to get my attention. However, I would then pull the covers over my head so Rafferty couldn't give me another face wash with his big wet tongue! Rafferty was ever so determined to wake me up that he would then place his paw gently on my head! I would then laugh and say to Rafferty, "Ok! You got me! I am getting out of bed!"
Then there was the way Rafferty interacted with my children. Rafferty thought the world of my boys, who were ages 5 and 8. If you let him, Rafferty could play for hours with my kids as long as they had a stick for him to fetch or a toy to play tug of war. Often Rafferty would win tug of war, one of his favourite play time activities. Rafferty only had eyes for his handler and his family. I think Rafferty knew that the people around him in public were people he was supposed to ignore. When working him in my community, people often asked me, "Why does your dog look sad?", and "Why doesn't your dog want to say hi to me?" Rafferty was a guide dog, and he took his job seriously.
The day that I had to retire Rafferty was one of the hardest days of my life. Saying goodbye to my new best friend and confidant was truly sad. Unfortunately Rafferty's retirement meant that he had to return to California to Guide Dogs for the Blind for a training evaluation before being placed with his puppy raiser. It would be the last day I would ever see Rafferty. As I said my good byes to my dog, I whispered in his ear, letting him know how blessed I was to have him in my life, even if it was just for a short time. I gave Rafferty a hug, and hugged him so hard I did not want to let him go. Rafferty gave me a wet kiss on my cheek. It was bittersweet, for I knew it was goodbye, and that it was the right thing for him as a dog. Although our relationship had to end, he had a new beginning, and a new life waiting for him back in California. Rafferty was able to return to his birth place where his journey as a guide dog had begun. I kept in touch with his puppy raiser, and Rafferty had a great life, swimming, playing fetch, travelling, and even becoming a certified therapy dog providing comfort and support to people who were in hospice and palliative care. I resumed using my white cane on a daily basis for five months before I met my second partner.
Before returning to Guide Dogs for the Blind to train with a successor dog, the instructors asked me what qualities and characteristics I desired in my next dog. As much as I loved and missed Rafferty, I could not get him out of my head or my heart. My heart hurt, and I deeply missed everything about him. I had mixed emotions about training with another dog so soon. I was eager to meet my new partner, whoever he or she would be: black, yellow, or golden. I didn't want to compare my new dog to Rafferty in any way. I wanted to open my heart and life to my new partner. I remember telling the staff at Guide Dogs for the Blind that I would like a dog with personality, and someone who looked very different from Rafferty. I missed Rafferty's sense of humour, loyalty, and courage.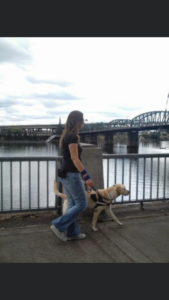 When I met Orion, I did not know what I was in for! Orion was a star and he knew it! The opposite of Rafferty in every way possible! When my guide dog instructor introduced me to Orion, my immediate thought was, "Wow, who's this dog? Who does he think he is?" In a matter of two minutes Orion did everything I despised about Labradors. Orion jumped on me, slobbered all over my face, and sniffed my crotch! I had to set a clear boundary with him right away, so that he was aware that those behaviours were not cool with me. Orion was a very bouncy light coloured yellow Lab. With a heart larger than life, he was a dog that was always going somewhere! Orion loved everyone and everything, except for puddles, needles, handling his feet, and a cold winter day. At times he could be a big baby and would even whine! Orion's confidence, charisma, and intelligence blew me away. His ability to problem solve and navigate obstacles and challenging situations was truly astounding! Agile on his feet, eager to go anywhere, there was truly a lot going on in his brain. Orion's zest for life was remarkable. His social personality, however, greatly interfered with his quality of guide work. At times I felt as if I was entrusting my life and my safety in the hands of a toddler! On route, Orion always wanted to stop, or jump on people and other dogs to say hi. He loved to wash children's sticky hands and faces with his tongue. As a University student at Vancouver Island University in Nanaimo, British Columbia, there were rabbits everywhere! Orion would get excited, and it felt as if he was hopping his way to see the bunnies! He was a cheeky dog, with a willful, strong personality, and he had a mouth like a vacuum cleaner! I was continually getting after him for something: picking up miscellaneous things off the ground that dogs should not eat, and plucking flowers out of the flower beds as we walked by on the way to my next class!
Despite Orion's fun loving and juvenile personality, he performed an incredible traffic check one day that I truly believe saved my life. Orion and I were ready to cross the intersection at Bowen Road and Dufferin Crescent in Nanaimo, B.C. I heard the surge of parallel traffic and the audible pedestrian signal informing me that it was our turn to proceed into the street crossing. Two paces into our crossing, Orion put on the brakes, stopping abruptly. I had been trained to follow my dog when in the street. I stopped when Orion stopped. I didn't hear any traffic and even wondered for a split second, "Why is Orion stopping?" Then, out of nowhere, I heard what must have been a hybrid car abruptly stop about two inches in front of me! My heart pounding, I couldn't believe what had just happened! I think the driver in the car was just as shocked and shaken up as I was from this incident. Once the car had backed up, Orion and I, still shaking, were able to proceed to cross the street and make our way to the up curb safely. I could not have been more relieved and proud of Orion's attentive work ethic that day! A silly dog, quirks and all, showed me that day how capable he was of being alert and being a responsible guide dog. I lived in a very busy neighbourhood in Nanaimo, B.C., and situations like this with cars cutting us off became the norm. Each time this happened, Orion performed his job with ease and precision. Orion was career changed in 2013, and I placed him in a loving home where he was able to be the kindred spirit he needed to be.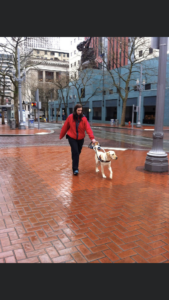 As I reflect back on my experiences as a guide dog handler I realize that there are too many memories to share with you today. Prego came into my life in February of 2013: a tall, long legged yellow Lab. The moment I met him I was not a fan of his name. I even tried to nickname him "Handsome", because he was such a handsome boy with golden locks. However, Prego would not come to any name but Prego! Over the few years that I worked with Prego, he had a few nicknames such as "Slim Jim", "Pregs", and "Prego Waffles". A couple friends would jokingly tease me and say, "How is Preggers doing?" My fondest memories of Prego include his smile, the chattering of his teeth, and how he could carry up to five large Nyla bones in his mouth at once. A devoted, dignified, loving companion, Prego worked as a guide dog until he developed anxiety and a fear of doors, elevators, escalators, and getting on and off buses and SkyTrains. With support from Guide Dogs for the Blind, we tried for months to work through Prego's challenges and overcome these obstacles. I needed a guide dog that could navigate transit and busy urban centres, and retirement was a heartbreaking decision for me to make. I just wanted his anxieties to be "fixed". I am so very grateful to Guide Dogs for the Blind for all of their expertise, training, and support with each one of my partnerships. Retiring a guide dog is never easy, no matter what the reason may be or at what stage of your partnership.
To this day, Prego is in the best home I could ever ask for. Since Prego's retirement in late 2016, I have been able to visit him and have doggie play dates with my friend who now owns him. The last time I saw Prego he was so happy to see me. Seated on the patio at my friend's place, we were talking and laughing. I recognize that I have a very distinct laugh, and all of a sudden Prego jumped up with such enthusiasm, smiling, and jumping up and down! It touches my heart that he is so happy, and of course he never forgets me!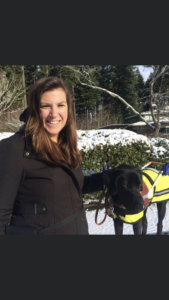 I was matched with Abner, a male black Lab, in December of 2016. When Abner looks at me with his large handsome face, deep brown eyes, and large jowls, I want to squish him! A goofy boy, he loves food, toys, and flowers! Yes, I said flowers! While working a route Abner would always want to stop and smell the roses, both literally and figuratively speaking! As a retired guide dog, he still enjoys smelling flowers of all kinds, including dandelions! One day I caught him with all the white fluffy stuff all over his face from a dead dandelion! He is a dog that drools like a Mastiff or Saint Bernard, so much that when he shakes, he then wears his drool all over his handsome face!
One of Abner's favourite things to do is sleep, so much that he will always find something to sleep on whether it's a mat, a blanket, a couch, or even my queen size bed! Shortly after I brought Abner home to Canada, we were shopping at our local Winners retail store. My son and I were looking in the pet aisle at dog toys. Abner was clearly more interested in taking a nap. I felt him pulling on the leash. As I turned around to check on him, I found Abner had made himself at home by climbing onto a dog bed that was on display in the store!
Like my other guide dogs, unfortunately our partnership as a guide dog team was cut short. By 2018, Abner's pace was slowing down while working and he had ongoing health and behavioural issues hindering his work as a guide dog. I anticipated having to career change Abner in the spring of 2018; however, with the incredible support and training from Guide Dogs for the Blind, we managed to work together for another year. Only weeks before I was to meet my fifth guide dog in August of 2019, Abner was diagnosed with arthritis in his spine, which might explain his change in pace and some other health related issues. Our family has kept Abner as a family dog. Abner is the best of friends with my current guide dog Barney, who is also a male black Labrador retriever.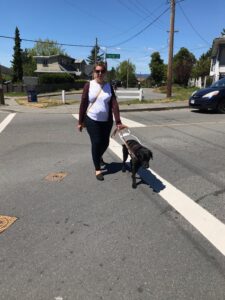 Barney and I have been together since August of 2019. From the moment we met, Barney has brought such joy and love to my life. The bond we have is so strong and special beyond words. Prior to training, I had just been diagnosed with early stage breast cancer. Yet again I had felt as if my world was turned upside down. I was scared and very angry about the situation. I was a young, active, healthy individual. How and why would this happen to me? A year into a marriage and a few days before I was booked to fly out of the country to train with a new guide dog. It is never a good time to be told you have cancer. My physician gave me the go ahead to travel and train in California for two weeks. Despite this, I felt very apprehensive about leaving my husband and son with my cancer diagnosis so fresh in my mind. I was also unsure of how things would be when I got back to Canada with a new guide dog and surgery dates and cancer treatment loomed ahead for me. Ironically, the moment I met Barney, he was obsessed with smelling my chest where my tumour was located. I know dogs can be trained to detect cancer and other things, but Barney was not trained for this line of work. I felt an instant connection to my new friend, and that no matter what he would be by my side through good times and bad.
All of my guide dogs have a special place in my heart, and I will never forget the memories I have had with each one of them. There are some dogs that as handlers we may develop a stronger connection with than other dogs. The deep bond I have formed with Barney is very similar to the connection I had with my first guide dog Rafferty. Many guide dog handlers can relate their bond they have with their first guide dog to that of their "first love". Barney is sensitive and intuitive of my feelings and my needs. He always wants to be right by my side and was with me throughout my entire cancer journey. I am so very grateful for Barney coming into my life when he did.
One very interesting thing about Barney to share is that he seems to have a fascination with string instruments. When Barney had full access to our home, we often caught him sitting next to my husband's guitar. It intrigued my husband and I so much, I had to ask Barney's puppy raiser if anyone in her family played guitar. Oddly enough, no one in his puppy raising home played guitar or any instrument for that matter. Barney's interest in music is a peculiar thing. My husband and I have often laughed about this, and the song "Good Vibrations" by the Beach Boys comes to mind. Perhaps if Barney was human, he would be a guitar player!
At three years of age Barney is eager to work and explore new places with me. Due to the COVID-19 pandemic we are sadly unable to travel. However, he enjoys learning new routes in the city where we live and we look forward to our next adventure together! When off work duty, Barney mostly loves to be with me, often with his head on my knee or tilted on my lap as a pillow for his head. Barney loves to shake both paws, sits up like a kangaroo on his back haunches, and gives the best hugs! Barney is the most affectionate dog I have ever met! Thankfully, Barney is not much of a drooler, like Abner! I now can arrive at my destination without having a wet pant leg from doggie drool. I have a good feeling that Barney and I will be together for many years to come.
As I reflect on each one of my dogs and how they have touched my life, I am incredibly thankful to Guide Dogs for the Blind, and all that goes into raising and training these dogs to be successful guide dogs. Each dog will always have a special place in my heart. Each dog may be a Labrador retriever, but they couldn't be more different from one another. Rafferty and Orion have since crossed the rainbow bridge, and I believe they are chasing bunnies and frolicking in doggie heaven. Prego is a senior dog now living the dream with his owner on Vancouver Island. Once this pandemic is over and it is safe to travel, I will make my way up the island to visit friends, family, and of course my dear friend Prego! Abner is enjoying retired life smelling flowers, sleeping, eating, and playing with his best friend Barney. Barney is my best friend, my partner, and extension of me. The mutual trust, love, respect, and partnership I share with Barney is surreal: one that will last a lifetime!
References
Guide Dogs UK (n.d.) Our Breeds, Retrieved May 6, 2021
Richmond, M. (2015). Guide Dogs for the Blind Changes Training Methods, and The Results Are Amazing, The Bark, Retrieved May 7, 2021
The Seeing Eye (n.d). Frequently Asked Questions, Retrieved May 8, 2021