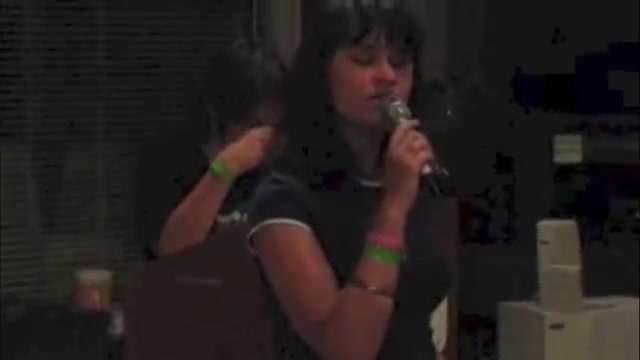 Save the date!
Saturday June 5, 2021
– 1:00 PM – 3:00 PM Pacific Time
– 2:00 PM – 4:00 PM Mountain Time
– 3:00 PM – 5:00 PM Central Time
– 4:00 PM – 6:00 PM Eastern Time
– 5:00 PM – 7:00 PM Atlantic Time
– 5:30 PM – 7:30 PM Newfoundland Time
What Is It?
The Camp Bowen Society and the Pacific Training Centre for the Blind (PTCB) invite you to join us for a virtual talent show featuring a variety of performers who are blind, Deafblind, and partially sighted. Talent shows have long been a favourite event at many Camp Bowen sessions and we are very excited to share this tradition with all of you!
Funds raised from this talent show will support the Bowen Island Recreation, Training and Meeting Centre, our joint capital project to develop a centre to house recreation and training programs on Bowen Island that benefit persons who are blind, deafblind and partially sighted of all ages from across Canada.
The virtual talent show will be streamed to audience members via Youtube Live Streaming. A link to the private Youtube stream will be sent to all ticket holders and performers. Performers have the option to send in an audio recording (with an optional photo), a video recording, or perform live off the floor over Zoom. Performers will be sent the relevant information based on the method of performance they select when registering.
The ticket price is $15.00 per person. Performers and children under the age of 13 can attend for free and do not need to purchase a ticket. Any donation made at the time of ticket purchase is eligible for a tax receipt. Tickets can be purchased on the show's audience page on our website.
If you are a blind, Deafblind, or partially sighted performer of any age and would like to share your talent with the world, it isn't too late. Although space is limited, we still have some spaces left. Simply fill out the registration form on our website. There is no cost to perform and performers will receive a free ticket to watch the event.
About the Pacific Training Centre for the Blind
The Pacific Training Centre for the Blind (PTCB) is an award-winning, grassroots, charitable organization, (Charity Number: 846673085RR0001) currently based in Victoria, BC. We are the only accredited blindness-service provider in BC, accredited by the Commission on the Accreditation of Rehabilitation Facilities (CARF).
We currently offer blindness skills training (e.g. independent travel with the long white cane, assistive technology, and Braille) to anyone who is nineteen years of age or older and is blind, deafblind, or who is experiencing vision loss living in, or able to travel to, Victoria. Our instructors, all of whom are either blind or Deafblind themselves, use the non-traditional, Structured Discovery Learning model to provide non-visual training in: tactile skills, including Braille; orientation and travel training with the long white cane; daily living skills such as cooking and cleaning; technology such as computer and iPhone use without sight; and more. All of our Instructors bring a wealth of lived experience to their teaching and promote a positive approach to blindness. At PTCB, students are encourage to problem solve and to take charge of their own lives and learning.
For more information, please visit: PTCB.ca
About the Camp Bowen Society
The Camp Bowen Society for the Independence of the Blind and Deafblind, often simply shortened to the Camp Bowen Society, is a federal not-for-profit organization that operates the Camp Bowen summer independence camps, independent living skills training, and outreach programs benefiting people who are blind, Deafblind, and low vision. We also facilitate the Bowen Island Accessibility Group, a program for people with disabilities on Bowen Island, BC.
Our signature summer independence camp programs are overnight summer camps that bring together blind, low vision, and Deafblind participants from across Canada for a balanced program of fostering independence, recreation, and friendship building. For more than half a century, Camp Bowen, located on Bowen Island, BC, has been a second home to its campers and a cornerstone of Canada's Blind and Deafblind Community. For many Canadians living with blindness or Deafblindness, Camp Bowen is the one place where they can truly be themselves. Whether it is swimming independently for the first time or just meeting likeminded people, Camp Bowen is a sanctuary, where blindness and Deafblindness are not barriers and campers are encouraged to reach their full potentials. The summer camps provide a safe, fun, and empowering environment for campers to expand their skills and experience new things while combatting the isolation many Canadians who are blind and Deafblind currently face. Programs take place each summer for children, youth, and adults, divided by age and camp focus area.
For more information, please visit: CampBowen.ca
See you at the event!