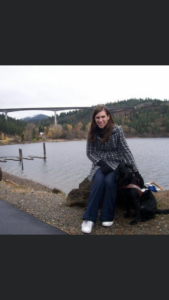 Editor's Note: Today is International Guide Dog Day. This special installment in the Saturdays with Shauna series is a follow up to Shauna's previous piece, entitled Pros of Working with the White Cane.
Having worked as part of a guide dog team since 2008, I have come to love the guide dog lifestyle. I have been an animal lover for as long as I can remember. For me having a guide dog has impacted my life in a multitude of positive ways.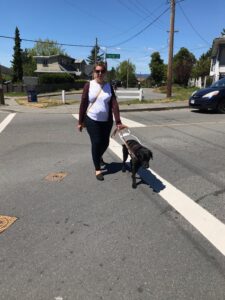 The bond I have with my guide dog is like none other. After working with a dog for a period of time, it is as if he/she understands you like no one else does. Some people refer to their guide dogs as their "soulmate", and state that they can read their handler's mind! I certainly have experienced this feeling while working each of my guide dogs. I am currently working with my fifth guide dog, Barney, who I trained with in 2019 in San Rafael California at Guide Dogs for the Blind.
I am an active, independent person and it is important for me to travel confidently and independently everywhere I go. Although I use my white cane regularly, and prefer to use my cane in certain situations, I love the relationship I have with my guide dog and how it enhances my life and independence.
For me, I can get to where I am going quicker and more easily with my guide dog than when using my white cane. My guide dog does not get stuck in the sidewalk cracks while I am walking. My guide dog, also does not jab me in the groin or stomach when it gets stuck in the sidewalk cracks like my cane does! Having my guide dog at my side everywhere I go, I have a strong sense of companionship, trust, and confidence that I do not have while using my white cane. Since having a guide dog, I have met so many beautiful people! Whether it has been forming friendships with my classmates while training with my guide dog at Guide Dogs for the Blind or talking to people while sitting in a local coffee shop, on an airplane, or on the ferry when I travel to Vancouver, I meet so many people. Dogs are social creatures and human dog lovers seem to be social with other dog people. When in a new environment, my guide dog is often a conversation starter. Although I am naturally shy in a new environment, if someone approaches me and speaks with me about my dog, I am usually very happy to share and speak with them.
Guide dogs can be clicker trained to target certain objects in our environment. I have clicker trained my guide dog to find me an empty seat and garbage cans, which are very useful when I need to put something in the garbage! My dog, Barney, also knows how to find poles where i need to press the button to cross the street, find bus stops, doors, elevators, stairs, escalators, the list goes on!
Having a guide dog helped me to overcome my fear of stairs and walking alone at night. I feel more confident navigating my environment with a guide dog than using my white cane. There are certain routes and certain wide intersections I do not yet feel safe navigating using my white cane but I am confident navigating these scenarios with my guide dog. When I travel out of town, I also prefer to work my guide dog than use my white cane.
The confidence I have with a dog at my side, and his companionship, enhances my confidence and independence in travelling on my own with him. I deeply value the relationship I have with my guide dog and the strong bond and trust we have in one another. Together, we navigate our world safely and have fun doing so. When in a new area I know he finds it exciting and always rises to the challenge.