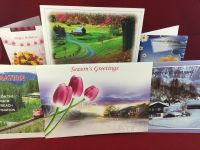 When looking for gift ideas for friends or family members who are blind or visually impaired, here is a list of gift ideas under $20.00. Head over to The Braille Superstore to find the items below and much more!
1) Talking Keychain Clock
The ultimate talking pocket watch, featuring a clear, easy-to-hear female voice.
Item #

1009
Price
$9.99
2) Classic Talking Watch
Affordable tried-and-true model with clear voice.
Item #

1001
Price
$9.95
3) Tactile Turn-A-Cube
This coloured plastic cube with raised shapes is a self-contained, handheld game, resembling a Rubik's Cube. The blocks on each side are marked with their own colour and raised shape. The goal is to have each side show only one colour and shape.
Item#

1173
Price
$13.95
4) Braille Keychain
This sturdy metal keychain features both a Braille and print word. Options are: Love, Live, Faith, Hope, Peace, and Jesus.
Item#

1198
Price
$4.95
5) Braille Earrings
These stylish earrings feature custom-shaped Braille charms. There are two styles available. The "Best Friend" earrings feature Beautiful, warm copper 1″ diameter circles with each with an adorable, dime-sized dog paw charm layered on top. (Popular among guide dog users – or dog-lovers of all breeds.) The "In and Out" earrings are simple half-inch silver-coloured curved aluminum discs each with a tiny pearl dangling below the braille; "in" on one; "out" on the other. (As in, "in one ear and out the other" – for those thoughts that escape us all.
Item #

1304
Price
$19.95
6) Braille Pendant
This is a shaped pewter charm featuring a word in print and Braille. Options are a heart that says "love" and an anchor that says "hope".
Item #

1301
Price
$9.95
7) Assorted Braille Greeting Cards (Pack of 6)
This is a pack of six different cards for special occasions, including birthdays, Christmas, and thank you.
Item #

1242
Price
$ 13.95
8) Recordable Greeting Card
Make your friends and family feel extra special with this amazing gift. Your recording plays as the card is opened. Draw, paint or stick on to this blank card to create a multimedia card for any occasion.
Item #

1291
Price
$11.95
9) Braille UNO Cards
This is the accessible version of the much-loved family card game, in a plastic case. The deck includes 108 Braille-embossed playing cards.
Item#

1138
Price
$13.95
10) Braille Playing Cards
These playing cards are washable and durable–with large-print and Braille. This deck includes 54 premium-plastic playing cards.
Item#

1136
Price
$9.95
11) Double-Six Dominoes
These is a set of 28 dominoes with raised dots and a no-skid surface. Each tile has raised bumps to indicate its value, and a tactile line down the centre.
Item#

1149
Price
$13.95
12) Braille Fridge Magnet
Jazz up your fridge with this card-sized magnet. There are a variety of options and this pack comes with ten magnets.
Item#

1201
Price
$9.95
13) Braille Bookmark
Similar to the Braille magnet, this bookmark comes with a variety of options of what can be embossed on it.
Item#

1203
Price
$6.49
14) 2023 Desk Calendar
This durable spiral-bound book features vinyl plastic covers and a easy-to-use full-sized Braille calendar.
Item#

3001
Price
$13.95
15) Talking Indoor/Outdoor Thermometer
Check indoor and outdoor temperature with one button. Mount on wall or stand upright on a window sill.
Item#

1055
Price
$14.95
16) Classic Measuring Tape
Take an accurate measurement with this measuring tape that features markings 1″ apart.
Item#

1051
Price
$2.95
17) Liquid Level Indicator
Gives an instant alert as soon as the mug, pot, or jar is close to full. A beep warns you to pour slowly, and tone alerts you to stop.
Item #

1029
Price
$6.95
18) Braille Salt and Pepper Set
This salt and pepper set features Braille and large print letter S (for salt) or P (for pepper).
Item#

1034
Price
$9.95
19) Braille Measuring Cups
Each of the four cups in this set sports print and raised Braille on the handle.
Item#

1035
Price
$9.95
20) Nylon Knife
This is great for young kitchen explorers.
Item #

1032
Price
$4.95
I don't know about you, but I often have a challenging time coming up with fun, affordable, and practical ideas when it comes to shopping for my family. I have an even harder time thinking of ideas to tell my family what I would like for Christmas. The Braille Superstore has a wide range of selection of products for individuals who are blind and visually impaired that are sure to delight under the tree or in a stocking.