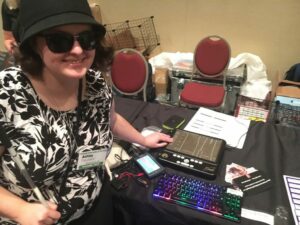 Please note: If you have not yet registered, you can still register on our 2021 Virtual Camps page.
Hello Virtual Connections Campers,
This is a reminder of tomorrow's Virtual Connections camp happening on Zoom and by telephone from 3-5PM Pacific (6-8PM Eastern). Tomorrow will be day 4 of 4 of the 2021 Virtual Connections camp. These sessions will be followed by the Virtual Music Camp, which starts on August 10.
In Friday's session we will be joined by Independence Science. Here is a blurb about them taken from their website:
"Our company provides the training, support, and equipment necessary for student(s) with blindness and low vision (BLV) to participate fully in their Science Classroom Laboratory Experiments. We typically work with those staff and students from secondary or post secondary schools in providing Science Classroom accommodations. We show how BLV students can interact and have a safe and enriching hands-on learning experience."
Even if you are not in secondary or post-secondary schooling, this can still be an opportunity to learn more about how blind people can interact with science. As always, there will be time for questions and social time.
We will send out the connection details to registered participants on the day of the session. You can also find them on the "Join Us" section of the Virtual Camps page.
We look forward to seeing all of you at Virtual connections. Remember, if music is also your thing, there's still time to check out the 2021 Virtual Camps page for our upcoming Virtual Music Camp.
See you Friday!
The Camp Bowen Team