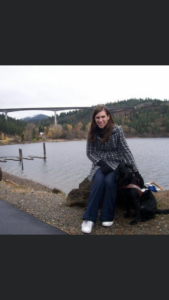 Editor's Note: Today is Family Day in the Canadian provinces of Alberta, British Columbia, Saskatchewan, Ontario, and New Brunswick.
I was a single mother in 2007 when I received my diagnosis of legal blindness. My children were young boys then, my youngest being in grade one. Although I was brand new to vision loss, my eye specialist informed me that I had my eye condition from a young age. As I look back on the years leading up to 2007, I may not have known that I was legally blind, but I was fully aware that I had very poor vision at night.
I had rules with my kids just like any other parent. Perhaps, I was a little overprotective at times. However, for their safety my children knew that I needed to be able to see them and hear them at all times. When we would go to the playground, for example, I would climb the monkey bars with them and when they were very young I went down the slide with them on my lap. I am not sure if this was because I was losing my sight, or if it was my being a mama bear protecting my cubs.
I remember countless times being asked questions by others in my local community. "How are you a parent?", was a common remark. Many people would assume that I must have a husband. The reaction of shock and disbelief I received from others regarding the fact that I was a single parent was common. Did I find things more challenging because of my disability? I acknowledge that there were barriers and challenges that sighted parents may not have to overcome. Some of the hurdles I personally faced were not so much public misconceptions to blindness, rather the length of time it would take me to clean my home, or the time it would take me to navigate my community by transit to take my son to and from school, after school child care, swimming, soccer and other activities. I would see other parents dropping off and picking up their children. In 2007 I was employed full time, and there were workdays where my son and I wouldn't get home until almost 8 pm at night, and I would have to cook dinner and put my boy to bed. When I decided to go back to school in 2009, weekday mornings became a little easier in walking my son to school, as I would schedule my classes for late mornings or early afternoons. As I met other parents in the community, we would carpool with them to soccer practices and games on the weekends.
In my opinion, being a parent is the most important job in the world, sighted or blind. It can also be the toughest job in the world, sighted or blind. At the same time, it is the most rewarding job. For me, I was a mom, and I still am a mom. I did my best to show my children love, patience, values, boundaries, fun, and taught them to respect others. I am of the belief that as a mom I will always be a mom. Although that may look different now because my sons are now grown young men. I have a close relationship with both of my kids, and they know that they can openly talk to me about anything, and that I am always there for them.
The takeaway I have regarding parenting being blind is we are parents just like any other parent. We may adapt and do things differently at times. Having good connections with friends and others in the community was helpful for me, in having rides to and from sports games, because I could not drive. Meeting other parents in the blind community was also an abundance of support. As we celebrate Family Day, my hope is that you can have fun and enjoy making memories with your children, whether they are small or grown.
My children and I still look back on our fond memories of family time, or times that we had fun just being silly. As I sift through boxes of mine, because I am in the process of needing to move, I have come across family photos and fun memories, and art work my boys made me when they were young. I still have some vision, and having these moments from my boys childhood brings a smile to my face. Having conversations with them as they are now adults and remembering the good times, to this day puts us into fits of laughter! Sometimes we laugh, sometimes we cry, and that is okay. We are family. Wishing everyone a blessed long weekend full of fun and memories that will last a life time!
---
Check out more articles from our Family Day Corner.