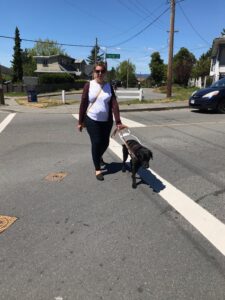 Editor's Note: This article was originally written in June 2021.
As a person who is blind, I have become independent and confident with using a white cane and working as part of a guide dog team. I am an active person who enjoys the outdoors, walking, and travelling. Strong orientation and travel skills are essential for people who are blind in all life's endeavours. When I was first diagnosed with my eye condition in 2007, I was very aware of my home area and surroundings. However, I struggled navigating changes in elevation such as curbs, stairs, and obstacles. Learning how to use my white cane was imperative for getting around safely and efficiently. Although I saw the cane as my nemesis, I quickly discovered that the cane I held in my hand held the key to my independence. I am not the type of person who enjoys relying on others for a ride to the store, to church, or to meet up with a friend. I am the type of person who likes to get up and go and get to where I am going in a timely fashion. The two years leading up to learning how to navigate with my white cane were stressful and time consuming. I was afraid to walk in the dark because my vision was very minimal at night. I also could not see depth and had fallen many times down flights of stairs, tripped over cement barriers in parking lots, fallen into ditches, and even fallen over a five foot retaining wall onto asphalt. As much as I tried to avoid using my white cane, I knew it was the solution to travelling safely and independently. After some basic travel training, I was well on my way with how to hold my white cane and navigating my community safely. For the first time in a long time, I gained confidence that I was not going to wipe out and fall down a flight of stairs. As time progressed I overcame my insecurities and gained the confidence I needed to travel with my cane whether it was daylight or after dark.
I trained with my first guide dog in 2008, an experience that has truly enhanced my life. I became even more confident and independent. I was eager to explore new places with my guide dog. In fact, I preferred to walk most places, rather than taking public transit. I walked with confidence with my head up. I no longer stared at my feet as I walked. I had a renewed sense of hope and safety in getting around my home area. I was also more open to learning new routes and going away for a weekend excursion to the lower mainland to visit a friend.
Over the years I have found a few things beneficial when planning or learning a new route. Prior to venturing out on a new excursion, whether it is in the city in which I live or a trip to Vancouver, I gather as much information as I can in regards to my destination and the route I will take to get there. Since I rely on transit and walking, it is imperative I have the name, address, and contact information of the person/business. Prior to going on a new route, I call transit. I ask the customer service person as much information as I can about how to get to my intended destination. I ask if there are any landmarks or obstacles that I should be aware of or that may be useful information for me to know about. If someone is available to accompany me the first time I head out on a new route then I ask them to, as they can also point out obstacles and landmarks to me that I can be aware of en route. My vision loss is slow and progressive and at this point I am no longer able to read street signs or identify address numbers on houses or businesses. However, I do notice some things in my environment such as a fire hydrant on a street corner that may act as a landmark. A fire hydrant is also something that I can easily locate and identify by using my white cane. Travelling with a guide dog can be tricky to find certain landmarks as the dog treats a fire hydrant, for example, as an obstacle and will typically guide me right by a fire hydrant. When I had a mobility instructor available for travel training, I would ask my instructor questions regarding the route and any information that might be of use to me on my travels. If a mobility instructor or someone else are not available to assist me on a new route, then I will often use my white cane and heel my guide dog beside me. It is important for me to know the route, and establish a good pattern, before introducing my guide dog to working the route. Each one of us is an individual, and what may work for one person may not work for another. Each one of us also has our own level of comfort and independence when it comes to travelling.
Technology has come a long way and can be a very useful tool for people who are blind. Using tools like a GPS device such as a Trekker Breeze or an app on a cell phone such as Google Maps or Soundscape can be useful. I personally have not ventured out of my comfort zone to learn how to use one of these GPS tools. I would like to expand my knowledge and skills and learn how to use more technology that would be helpful. I acknowledge that technology is the way of today's life and the future. However, I also recognize that one cannot solely depend on technology. What if the technology is malfunctioning? What if the internet is down? What if my cell phone runs out of battery power? My outlook on this scenario is that I think it is important to learn as many skills and tools to have in my tool box as I can. I am eager to learn more travel and problem solving skills once training is available to me.
As a person who is legally blind and as I lose more vision, it is very important for me to learn these necessary life skills. I look to my peers in the blind community and I appreciate their knowledge, support, and encouragement to always strive for independence. As difficult as it may be to have the courage to venture out on my own when learning a new route, I push myself to do so. I am not one to sit on the couch and wait for someone who can give me a ride or go with me. If I want to go somewhere I want to be able to get up and go. It is easy to feel discouraged or even uncertain about navigating a new route on my own. If I was to wait for others to help me, I might be waiting a long time, or I may miss out on an opportunity like attending an event or getting to an important appointment. A wise friend of mine told me something recently: "I am not afraid of looking silly" (D. Hudon, personal communication, June 3, 2021). Donna's words have imprinted in my mind not to be afraid of looking silly, not to be afraid of what others think, and not to be afraid of getting disoriented. I am an active, confident, intelligent, and independent individual. I also have a voice and am not afraid to reach out to others for assistance or direction when I need to. Sure, there are days I would like to be able to drive a car and not spend an hour on transit to and from work. There are moments when I would rather not educate others about vision loss or have to ask people not to pet or interact with my guide dog. I am a human being and these are very real thoughts and feelings.
My vision loss has shaped me into the person I am today; it has allowed me to grow in ways I never thought imaginable. It is because of my vision loss that I have many long lasting relationships I have with others to this day. My vision loss has allowed me to see through a different lens: a lens that appreciates the finer things in life and appreciates everyone for who they are. My vision loss has also given me a desire to learn and continually grow. As I took on the small project of writing this blog, I was a little hard on myself and did not believe I was the best person to write about this topic. However, each one of us has value and worth. Each one of us has valuable knowledge and skills. We have so much to learn from one another, and we can strive to learn, grow, and share as individuals, as a community, and as society as a whole. As COVID-19 health restrictions loosen and the weather continues to become warmer, I find myself daydreaming. I am dreaming about the days I can get out and explore my community and all its beauty.
---
Along with learning how to travel independently with the white cane and the use of accessible technology, students at the Bowen Island Recreation, Training and meeting Centre will acquire other blindness/Deafblindness skills essential for daily life and problem solving. Participants will also learn to be confident, independent and empowered to live the lives they want.
As Shauna says, "a positive philosophy of blindness is necessary for transforming what it means to be blind for future generations." It is with this philosophy that we are working together to build the Bowen Island recreation, Training and Meeting Centre.
Join us in building this life-changing centre today! Whether you can help by making a donation or can help by spreading articles like this one to your networks, no act is too big or too small. Let's go forth and change the future of what blindness/Deafblindness means in Canada!
Tune in next week for another Saturdays with Shauna post.