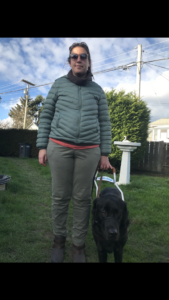 When I was initially diagnosed with my eye condition in 2007, I thought that everyone working in the health care system was aware of the social etiquette for a wide range of disabilities. Sadly, I have not always found this to be the case. In fact, as a person who is blind, I have often found myself educating health care providers of the social etiquette related to blindness and how they can effectively interact with individuals who are blind or visually impaired.
My family physician was very empathetic and supportive in every aspect of my disability. From diagnosis of my eye condition to completing forms and providing doctor's notes for my employer, my doctor was always able to accommodate my needs. When I decided to leave my customer service job in 2009 for medical reasons, my doctor supported with completing various documents related to my disability including applications for disability benefits and health reports to apply for a guide dog. Many physicians charge a fee for writing doctor's notes and completing forms. However, my doctor knew I was living on a fixed income and he never charged me any fees for such documentation. When my family physician met my first guide dog, Rafferty, in 2008, he was happy for me and supportive of the new partnership I was establishing with my dog. At my doctor's office, my physician admired my guide dog, but he did so from a distance. I found it refreshing that I did not have to educate my doctor about guide dog etiquette, as he knew not to engage with my dog.
During the first year of the diagnosis of my eye condition, I did not always know how to handle issues regarding my visual impairment and accessibility. However, over time, I learned how important it is to use my voice and share with others how they may be of assistance. Advocating for myself and educating others has become a vital skill I have come to use daily, particularly in medical settings. My experience with other health care practitioners have not always been inclusive as the experience I had with my family physician. Over the years I have had challenges with medical staff who are simply unaware of my needs as a person who is blind. I have experienced this challenge on a few different occasions at eye specialist clinics. Of all settings, I expected staff in ophthalmologist offices to have the background and knowledge regarding etiquette and how to interact with patients who have vision loss. I have had staff at the eye clinics grab my arm to assist me in navigating the clinic. On another occasion I even had a staff member take my white cane out of my hand and then try to take my arm to guide me. I recall initially feeling surprised and confused. In the moment I felt frustrated. Rather than showing the staff member my frustration, I remained calm. I chose to seize the moment as an opportunity to educate the health care provider. In a polite and assertive manner, I expressed to the staff member that I needed my white cane back so that I could navigate the eye clinic independently. I also informed her how she could assist me around the clinic: by providing me direction with verbal cues. Finally, I also educated the staff member about sighted guide etiquette, and how she can offer her elbow to a person who is blind in the future.
Other challenges I have encountered within the health care system are related to accessibility. Upon arrival to a first appointment with a new health care practitioner, there are often paper forms to complete by hand. When I have had my partner or family member accompany me to an appointment, they have been able to assist me in completing forms. However, when I was single, I often had to go to medical appointments on my own. When a Medical Office Assistant (MOA) handed me a document to fill out, it was not accessible for me to read or complete. I would then have to ask the MOA for assistance in filling out the forms. In regards to having someone assist me filling out medical forms while sitting in the waiting room, I believe it does not empower me as a person who is blind. In fact, I think it impedes my ability to complete this task on my own. I also feel that other patients or people in the waiting room overhearing my personal information and/or medical history is a violation of my privacy. I think health care practitioners should provide their medical forms in alternative formats for persons who are blind. For example, these forms could be provided in large print and digital copies. There have been other situations where I have been discharged from surgery with instructions from the surgeon or physician, or even information the pharmacy has given me regarding prescribed medications. The health care system could easily provide this information for persons who are blind in alternative formats as well.
Although my guide dog and I have access in public spaces, there are times and certain medical appointments where I prefer to use my white cane rather than working my dog. Over the past two years I have been to the hospital and/or cancer clinic for various treatments and tests. Some of these procedures are unsafe for my guide dog to accompany me into the room. I would then have to rely on health care staff to hold onto my guide dog for me. Some of these medical procedures include CT scans, MRI scans, X-Rays, and Radiation Therapy to name a few. Although medical staff are supposed to accommodate me when I arrive with my guide dog, I have found it easier in these appointments to leave my dog at home. I then do not have to worry about who is holding my guide dog while I am having a procedure done and also do not have to be concerned about my dog's behaviour. I value using my white cane in various settings, and attending medical appointments is one of them.
Although navigating the health care system has its challenges, I am no longer afraid to speak up and educate others. I am a confident and independent individual who has learned how to advocate for myself and my needs. Raising awareness regarding blindness, etiquette, and accessibility for those working in health care is an important step for social change. I believe this change can begin in our day to day lives as individuals who are blind. As a community we can also come together and lobby policy makers and governments for change for an inclusive and accessible health care system for all.
---
At the Canadian Organization of the Blind and Deafblind and the Pacific Training Centre for the Blind, we believe that, as people who are blind and Deafblind ourselves, we can play a role in helping to create a more accessible healthcare system. Through the Bowen Island Recreation, Training and Meeting Centre project, we can also help students to develop the self-advocacy, travel, and research skills they need to navigate healthcare, whether it be related to vision loss or simply to get a routine checkup at their family doctor.
But to make any of this possible, we need your help. If you can help us to raise awareness of the Bowen Island Recreation, Training and Meeting Centre or are able to make a donation, we can build a Canada where people who are blind and Deafblind can live together with dignity and independence on terms of equality with our sighted peers.